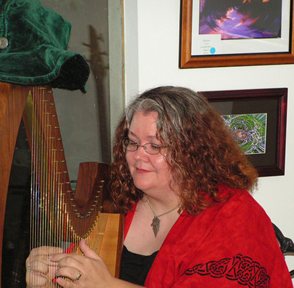 Gwen Knighton won the Scottish Harp Society of America's National Journeyman Division in 2000 with a study scholarship to the 2001 Edinburgh Harp Festival, where she hobnobbed with champion harpers from other countries.
In 2001, she competed in her first SHSA National competition at the Master level and placed fourth in a field of professional harpers, all of whom had previously won the title. Later that summer Gwen was elevated to Master Class by winning the harping contest at the Atlanta Scottish Highland Games.
And, sure, she's a diva: it even says so on her car. Her musical background runs the gamut from classical vocal training, arranging, harmony, conducting, and theory classes, to her lifelong fascination for traditional music. She has been known to perform Murder Ballad sets, guaranteeing at least one death per song.
Gwen released her first solo album, Box of Fairies, by Bedlam House in 2003 along with a live album, Java Sutra. The filk community has nominated her for Pegasus Awards in 2003, 2006, 2008 and 2010.
In January of 2004, Gwen met the Love of Her Life, Joe. That summer, Joe proposed, and Gwen accepted! The only complication for Three Weird Sisters was that this meant that Gwen would understandably want to live with Joe, and Joe resides in London....England, that is. But, we came up with a solution, folks; Gwen did not leave the band. Rather, she has assumed Sister Emeritus status and will continue collaborating with Three Weird Sisters via all the wonderful new technology that is available, as well as performing with Three Weird Sisters when everybody happens to be on the same continent. Dr. Mary Crowell, who joined the band in August of 2004, has made it possible for Three Weird Sisters to perform in Gwen's absence. Who says that there can't be four Three Weird Sisters?