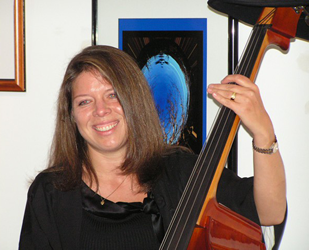 Teresa Powell is the band's bassist; she also plays the guitar. Her favorite bass is a 3/4 upright, although when she travels, she tends to bring her electric Fender Jazz bass along, since it doesn't qualify as oversized luggage. Teresa often sings the soprano parts; it has been said that she sings in such clear tones that nightingales hearing her fall from the sky in fits of jealous depression. She thinks this is hyperbole...you be the judge.
Teresa is currently in her final year in Full Sail University's online Music Business Bachelor of Science program; she is slated to graduate in early March of 2013. In addition to her contribution to TWS, Teresa performs (bass, trumpet and vocals) in the jazz ensemble Play It With Moxie and as an occasional backup singer for her daughter, singer/songwriter/guitarist Carly Gibson, whom she also manages. Teresa, through her company Portal Production, Ltd., specializes in providing marketing and administrative support to independent musicians; this includes developing websites tailored to their needs.
Teresa's husband, "Chicken" George Powell, occasionally steps in on bass when she is occupied with other instruments; George is an exceptional musician who teaches four instruments (bass, piano, saxophone and flute) and can play quite a few more. It is his flute that you hear in the song Spring Strathspey from Rite the First Time.